It has now been a full year since we upgraded Goony Island homestead to Escapades Island full region. And what a year it has been.  To start with we have never had all the plots rented on the island but thanks to the kind passionate followers we have always somehow met the tier costs.
It was touch and go at various points with so many of us having unexpected troubles real world to deal with loved ones and economy. It makes the Island and what it represents for those proud few who through it all find comfort with each other on Escapades. Thank you all those who comforted me and encouraged me.
Anyway, to celebrate Escapades First whole year on the ever changing grid we had 3 days of spiffing events and here are the highlights 🙂
Day One


The Mad Hatters Tea Party.
Kicking off the weekend was a magical Tea Party where everyone came suitably dressed with Crazy Hats
The Tea Party takes place on a floating platform
with spinning clocks and blocks floating above…
Definitely MAD
Nat shows off the latest in Mesh Clothing
'TEA TIME – ALL CHANGE!'
Goony Adventure to the Wastelands.
Next the Goonies Gathered at the Club House to go on a special Anniversary Adventure. Originally it had been planned to go visit the Sunrise Region the original sim island that the Goonies was founded on 5 years ago. Unfortunately i discovered it had since been turned into a GOR RP sim, so no chance of us Virtual Kids going there!!
The Goonies kit up for a desert adventure
Boarding the Icarus we venture across the swamps…
Back on land we pull out our buggies and… erm.. ride on lawnmowers
Everest drives into a hole much to the dismay or Christan
Wastelands is full of little surprises to explore!
Deep in the canyon the Goonies rope together some rafts
Then when it's time to go we inflate a hot air balloon to fly us out and back home.
Goonies Late Night Movie Night
After such a long day some of us then gathered in Everests basement to watch the classic Labyrinth on a big screen. Watching it and chatting to my friends about the moments we were watching i realised, you can't do that on faceboook. Socialising experience on the net.
Escapades Got Talent
Day two saw Gadget, Yti, Nat and Old Mr Doomdale take up the roles of judges as residents of Second Life performed, games, dancing, tricks, singing and telling jokes. gadget and Nat were very fair in their reviewing of the performances, as was Yti once she could stop laughing at Mr Doomsdale. Hopefully no one was too hurt by Mr Doomdales blunt scathing reviews. Also i think there was a mix up between interloper and antelopes.
Judges Listen to Yti's performance
Mr Doomdale shuffles uncomfortably on the spot
Onlookers watch the show's antics unfold
Felix demonstrates his amazing mind controlling abilities
on Loki by making him dance in sync!
Felix shows amazing drawing talent
Tepic plays the flute
Rai and Myrtil watch with interest and amazement (they really do!)
Goony Beach Party
After the Talent Show it was straight over to Hawkins Bay for the Goony Beach party where members of the gang discussed many topics, mostly Mesh and how no one  could not see Nat's amazing new Mesh Clothes. Gadget Played the first hour while Loki stepped up to play music in the second our.
Battle in the Sky
Right near the end of the Beach Party an object fell from the sky. Closer inspection revealed it to be a broken Search Droid commonly used by the Evil Grand Master to locate things he wants to steal.
The Goonies rewired the Droid to discover a message. "Last Pirate Robot located, send Lizard men, Cubes and Giant worms to retrieve it!'
Well soon the Gang was aboard the Icarus Airship and heading up to the famous abandoned floating Sky Platform, home of the Pirate Robot. Upon arriving the Goonies were met by a massive hoard of Gelatinous Cubes and other monsters ready to do battle…
"GOONIES NEVER SAY DIE!!!"
THERE I WAS RIGHT, CUBES! THOUSANDS OF THEM!!
Tepic fends off a gruesome lizard man
JImmy and Myrtil stand their ground to protect the Robot Pirate
Nat battles a Giant worm!
Christian searches the woods for left over Gelatinous Cubes
Escapades Treasure Hunt
A Treasure Chest appeared on the stage at Rickety Town Centre. Inside was part of a map and clue to find the next part. Each leading closer to the actual Treasure.
Pirate Party at the John King Tavern
Pirates, Privateers, Highway Men, Scum, Villanry and Unicorns all turned up at the Famous
John King Tavern
 for a Pirate Themed party. It did not take long at all though before it turned into a massive Tavern Brawl.
The Tavern is packed with scum and Villans
Lot of people got knocked out by flying chairs
GARGHHH!!!
Pirate Ship to Ship Battle
It started off as an attempt to have Island to Island ship to ship battles, but
Alfehm
Island is only an openspaces sim and does not have enough spare for two pirate ships to sail through it. So the battle was confined to the edges of Escapades Island, unless you think like Terry Gilliam then the ships can sail over land and through trees.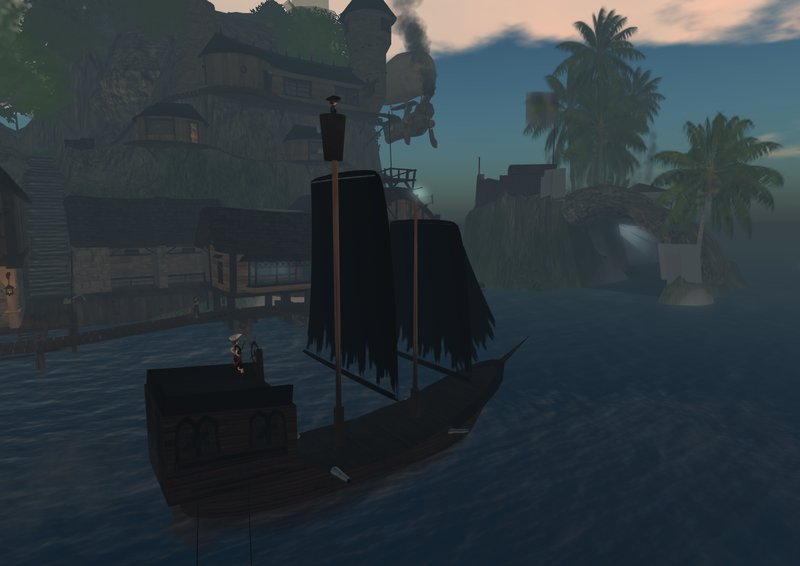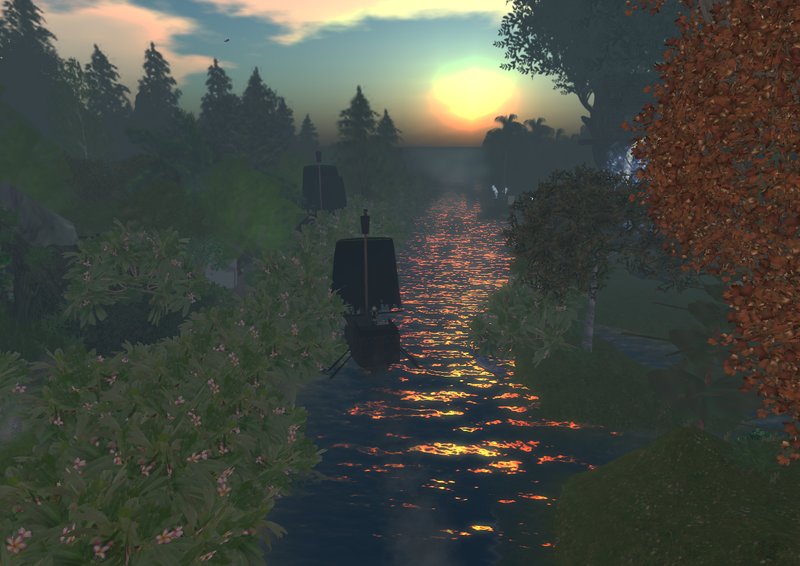 Gadget and nat watch in puzzlement as Loki's ship heads inland through trees.
So the weekend of events is finally over. I hope everyone enjoyed the events and went away with some fun memories of the weekend. It's been a hard year, but there has been a lot of fun had, just look at the past blog posts and you will see that not only is Second Life improving but we are also continuing to think up new fun stuff to do and experience!
Here is to year two of Escapades island of Adventure!